Polywell Computers announces a partnership with Stratodesk, a manufacturer of thin client OS and centralised thin client management system.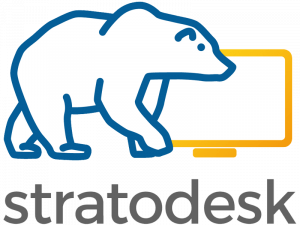 Polywell Computers announces a technology partnership with Stratodesk.
Stratodesk produces NoTouch Desktop. It is a Linux-based operating system and centralised thin client endpoint management system. Consisting of NoTouch OS and NoTouch Center, NoTouch Desktop allows you to turn any PC, thin client, laptop or Raspberry Pi device into a secure and centrally managed thin endpoint. You can instantly deploy NoTouch OS on thousands of devices and manage them from a single browser.  
 NoTouch OS is a Linux-based operating system for endpoints in popular VDI environments, as well as the most advanced thin client OS on the market. Capable of running on the latest thin clients, laptops, PCs and Raspberry Pi devices, NoTouch OS is your #1 choice for a centrally managed endpoint solution.
NoTouch Center allows you to manage thousands of VDI thin clients and other devices from one easy-to-use control centre. With support for parameter inheritance, groups can be easily set up, configured and synchronized. NoTouch Center can be run on the NoTouch Cloud or locally.
As client-server and cloud computing become more and more in demand, the installed base of endpoints in the form of thin clients grows. Centralised thin client management systems are needed to use them effectively. There is not much choice, and Stratodesk products are rightly leading the market.
Polywell Computers minicomputers have been successfully tested and certified to run Stratodesk products. Polywell Computers is a technology partner of Stratodesk.
It is especially important to us that Stratodesk produces a dedicated NoTouch IoT solution that leverages Stratodesk's advanced software suite and is revolutionising the deployment of the Internet of Things for edge computing. Manufacturers, enterprises, and organisations of all kinds have a real and effective technology that can manage, update and support their entire IoT deployment.
Polywell Computers produces a wide range of industrial-grade mini PCs. We can meet virtually any customer requirement in terms of I/O port set and computing capabilities. Unique solutions are available, including mini-PCs with extended temperature range. All our mini-PCs are manufactured with industrial grade components, which ensures high reliability and an impressive MTBF of 100,000 hours. Unlike other manufacturers, we publish this figure openly, including on our website.
Both companies are convinced that complete solutions based on Polywell Computers mini PCs running Stratodesk products will enable end users around the world to achieve more efficient solutions to their challenges.

Polywell Computers, Inc. (on the market since 1987) is one of the oldest and best-known manufacturers of computer equipment. The company is widely known not only in the United States, but also in Europe, Latin America and Asia. Polywell Computers returned to EMEA market with mini industrial grade PCs for different purposes. Our company's PCs have all the necessary permits. Some systems are certified for Astra Linux special-purpose operating system and Stratodesk and Red OS operating systems.
The company has earned its reputation by becoming a recognized leader in the personal computer market. Its products regularly participate in tests conducted by the most reputable computer publications. The company regularly receives many awards, such as PC World's Best Buy, PC Magazine-Editor's Choice, Infoworld-Buyers' Assurance Seals.