About Polywell mini PC Nano-8000FL2C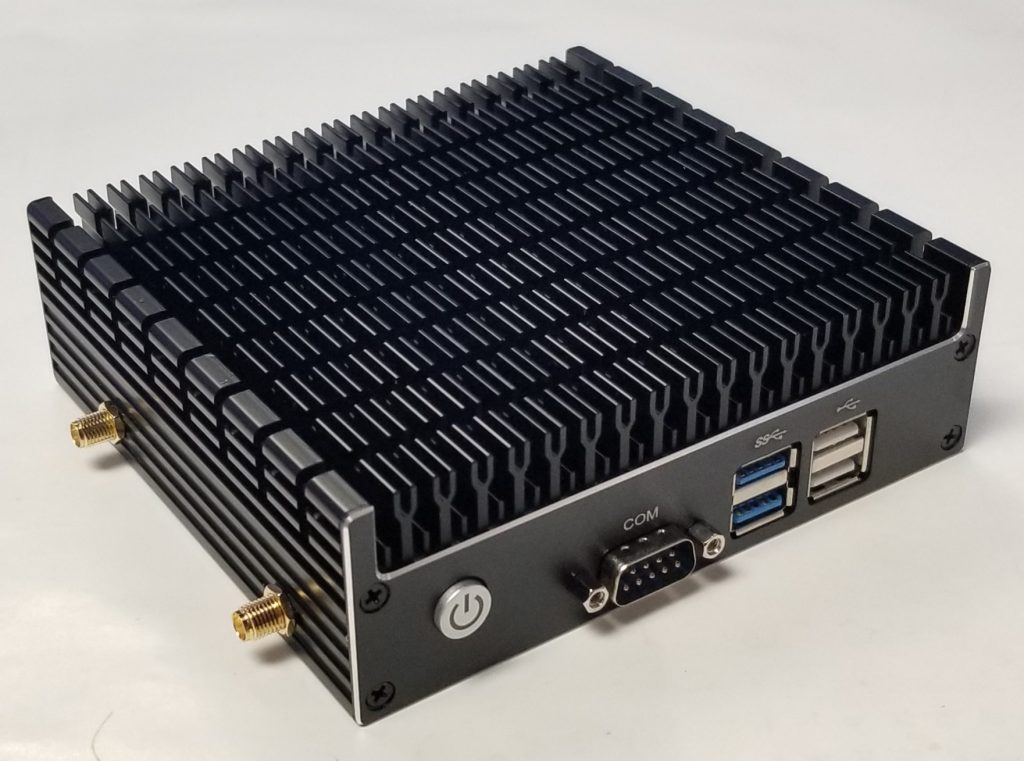 Today I want to talk about our Nano-8000FL2C system.
It is one of our most popular models today. We sell significant volumes in the markets in North and South America, Asia and Europe. It is specially designed in a fanless design to be used in industrial applications, in corrosive environments where traditional air cooling is undesirable, if not impossible. A detailed specification sheet can be found here. Previous generations of this model were called Nano-7000B, Nano-7000FL2, Nano-8000FL2.
Here is a deciphering of the naming conventions of this model:
7000=7th generation Kaby Lake CPU (2 cores/4 threads), 8000=8th generation Kaby Lake-Refresh CPU (4 cores/8 threads);
F=Fanless (fanless), L2=two network adapters, C=COM port.
We normally maintain a stock of the following SKUs: 
BBINX-F62I1           Nano-7000FL2C 3865u Fanless 2LAN,COM,HDMI+DP SIM  
BBINX-F62I3           Nano-7000FL2C i3-7100u Fanless 2LAN,COM,HDMI+DP         
BBINX-F62I6BNV   Nano-8000FL2C i5-8250u Fanless 2LAN,COM,HDMI+DP     
BBINX-F62I8           Nano-8000FL2C i7-8550u Fanless 2LAN,COM,HDMI+DP         
These standard configurations (SKUs) are supplied in an enclosure (which professionals usually call a chassis) Nano-F6 and are completed as follows:
– 1 x DB9 front RS232 Serial COM port (can be replaced by RS485 port for a small surcharge with a minimum order quantity (MOQ) of 20 pieces.
– 2 x USB 3.0 + 2 x USB 2.0 front ports
– 2 x LAN, HDMI+DP, 2 x 3.5mm Audio (rear)
– 2.5mm power input – supports DC12V and DC19V power adapters. A 65W DC19V 3.42A power supply with cloverleaf (Mickey Mouse) power cable is supplied by default. The Nano-7000FL2C 3865u Celeron model comes with a 45W DC19V power supply.
This mini PC comes with a bracket for wall mounting or VESA mounting.
It comes with a Realtek RTL8821 11ac M.2 Wi-Fi adapter by default, which works well under Windows, but is not good for Linux. We recommend using Intel Wireless-AC 3160 11ac WiFi+BT M.2 if you intend to run the system under Linux.
In fanless configurations, the system does not support Turbo mode and we have to limit the CPU to only 15W of power.
This system supports an optional full-size mini PCIe slot with a SIM slot for a 4G-LTE modem . In particular, a Quectel EC25AF 4G-LTE miniPCIe modem can be used. For Internet of Things fans, I can tell you that we already supply systems with 5G modems.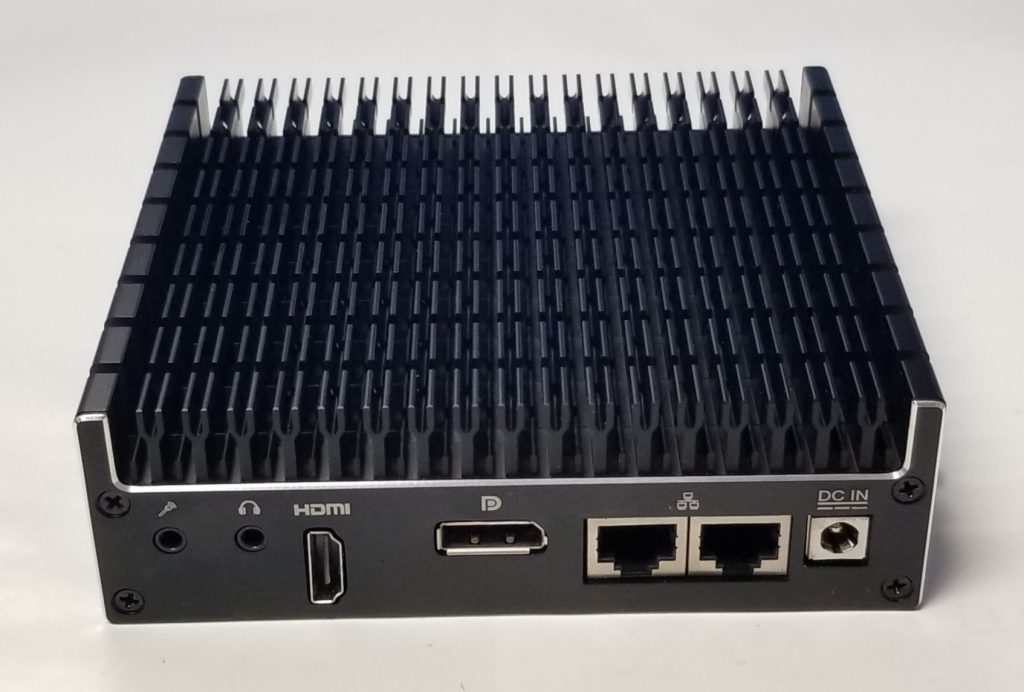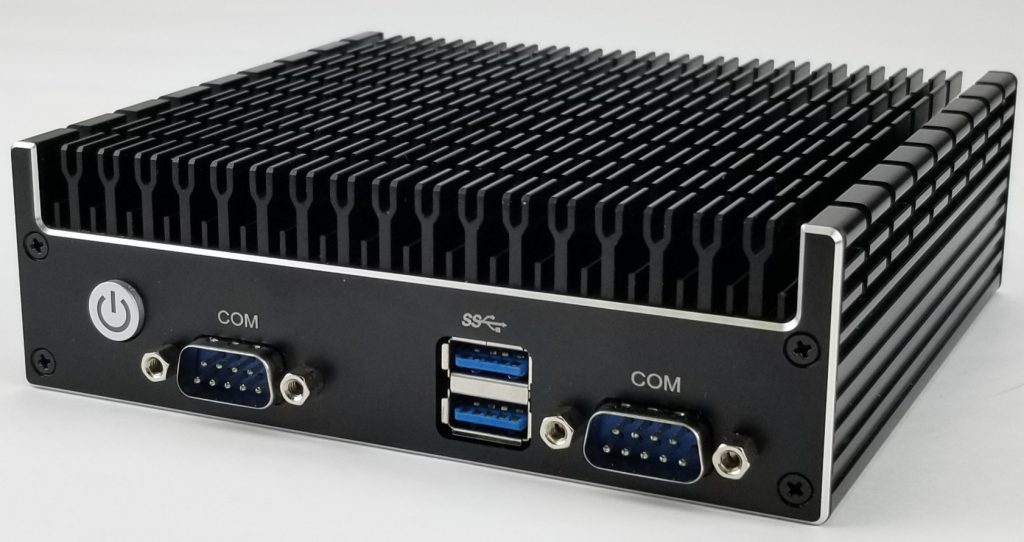 Other configuration options:
2 x front COM ports with 2 x USB ports
1 network port with two additional rear USB 3.0 ports and a VGA port instead of the DP port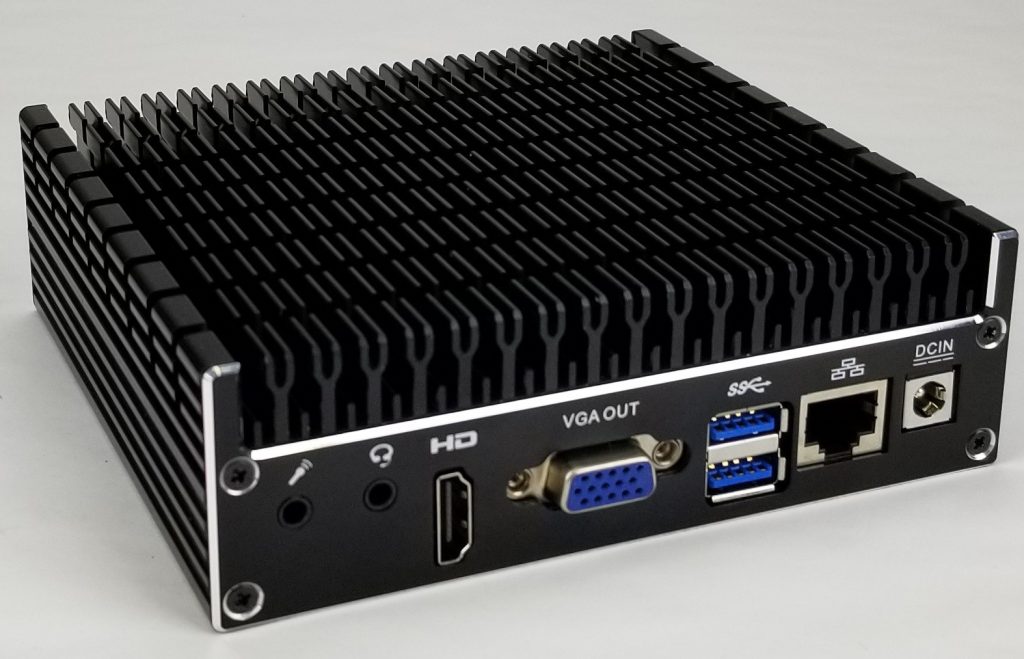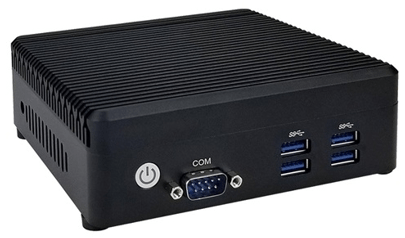 Chassis options:
Nano-F5 chassis with hybrid fan to support Turbo Mode – at a small surcharge with a minimum order quantity (MOQ) of 20 pieces.
The Nano-F7S is a fanless chassis with a removable 2.5″ SATA drive bay. Supports Turbo mode even in fanless version as its size is larger. For a noticeable surcharge with a minimum order quantity (MOQ) of 10 pieces.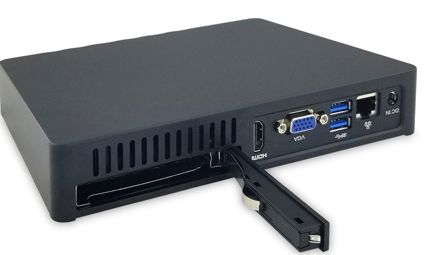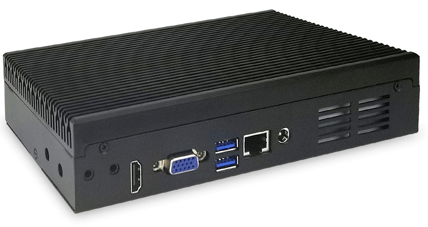 Nano-8000B (B stands for battery) 
Equipped with a built-in battery for 1 hour of operation in case of mains power failure. This picture shows the battery module separately. This option will require a substantial surcharge. Minimum order quantity (MOQ): 50 pieces.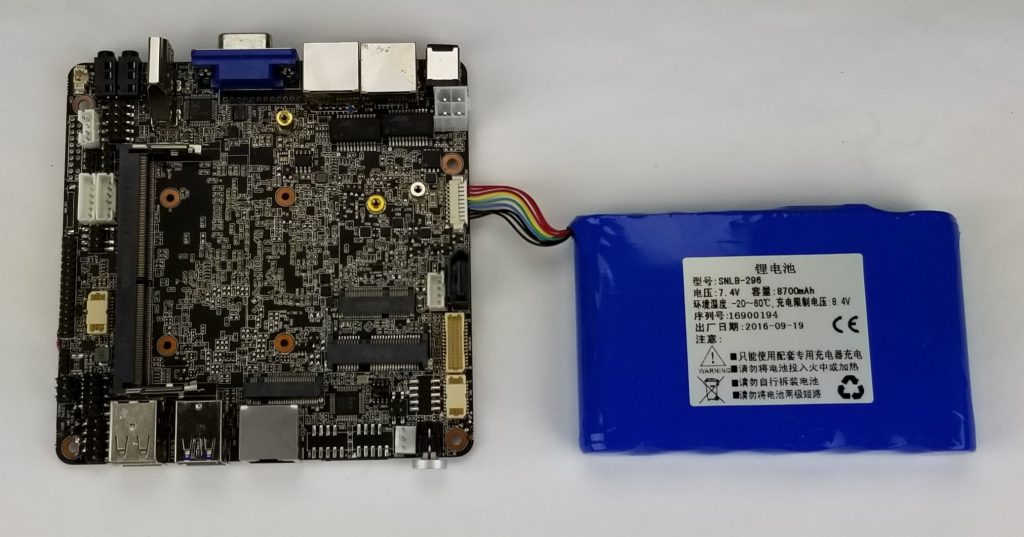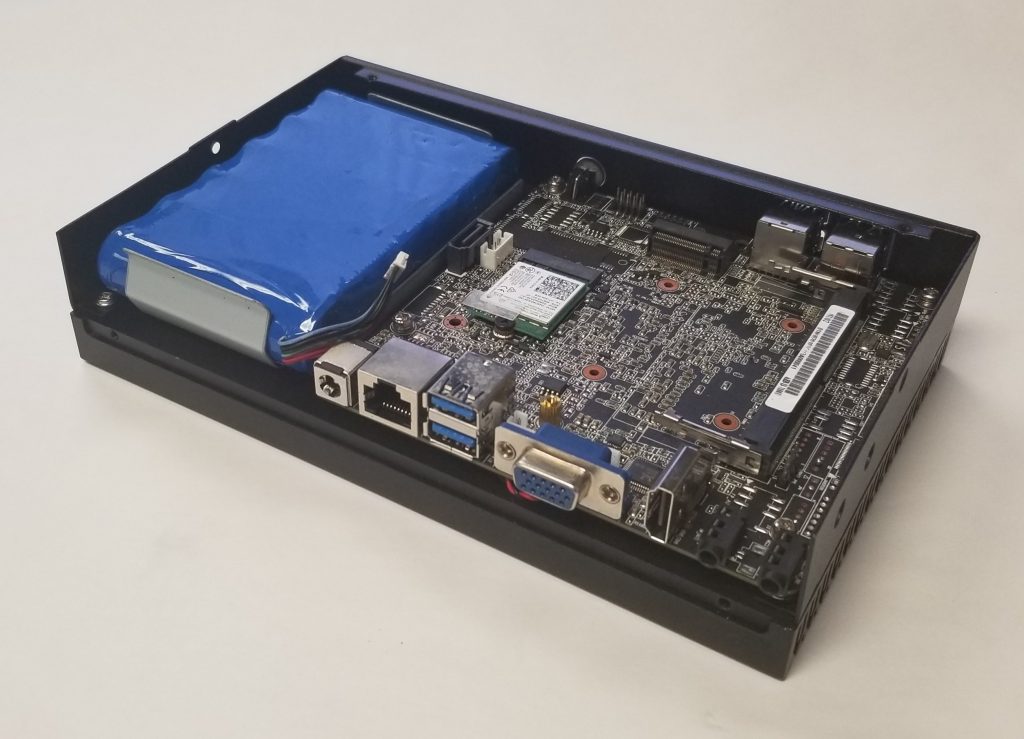 And this is what the complete unit looks like.
This is the new Nano-12 chassis with fan for OEM projects, and for those who don't like fanless chassis.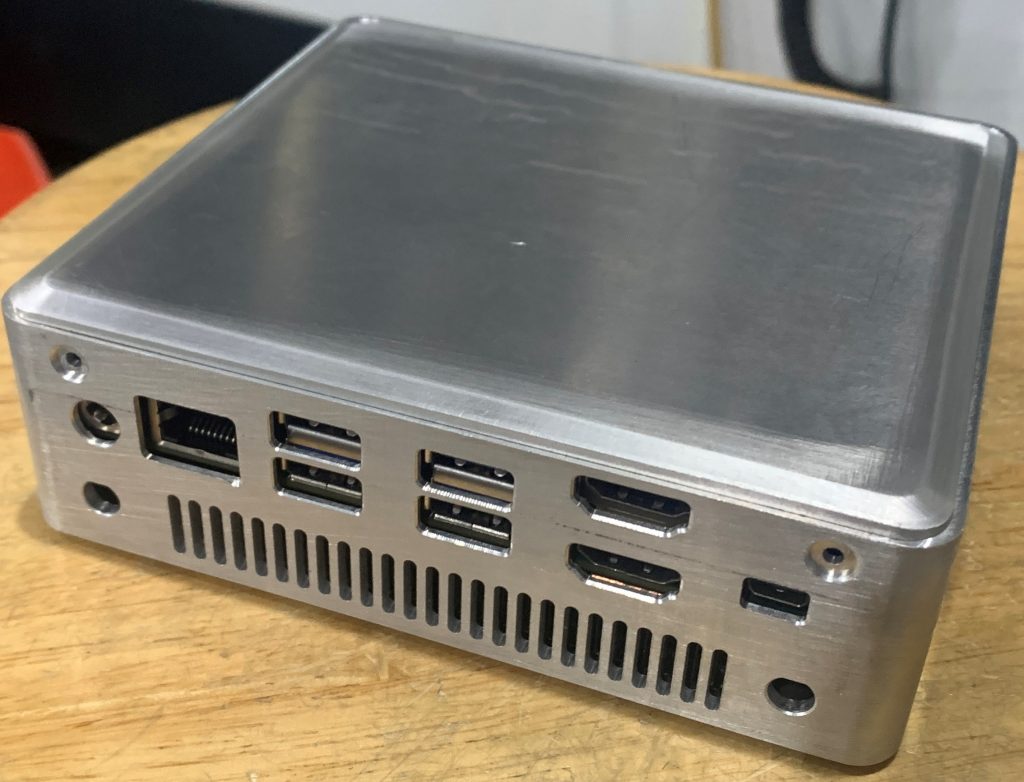 New slimline fanless chassis Nano-11FL. MOQ 100 pieces.