Polywell Computers has launched X58 - an extremely powerful industrial Android PC
The Android OS is no longer associated with cellular phones and tablets among IT professionals. A whole new class of device has emerged right before our eyes – Android PCs. They are powered by a vast variety of ARM CPUs, run under Android, and are well optimized for certain tasks such as Digital Signage and media players, set top boxes for IP TV, entertainment and similar. It's difficult to surprise anybody with that kind of devices today.
Yet there is a huge, underexploited potential of Android OS combined with ARM processors. And there is a market demand for robust, reliable, and inexpensive devices running the extended set of tasks. Meeting this demand Polywell Computers has launched the X58 – the industrial feature-rich Android PC with impressive set of I/O.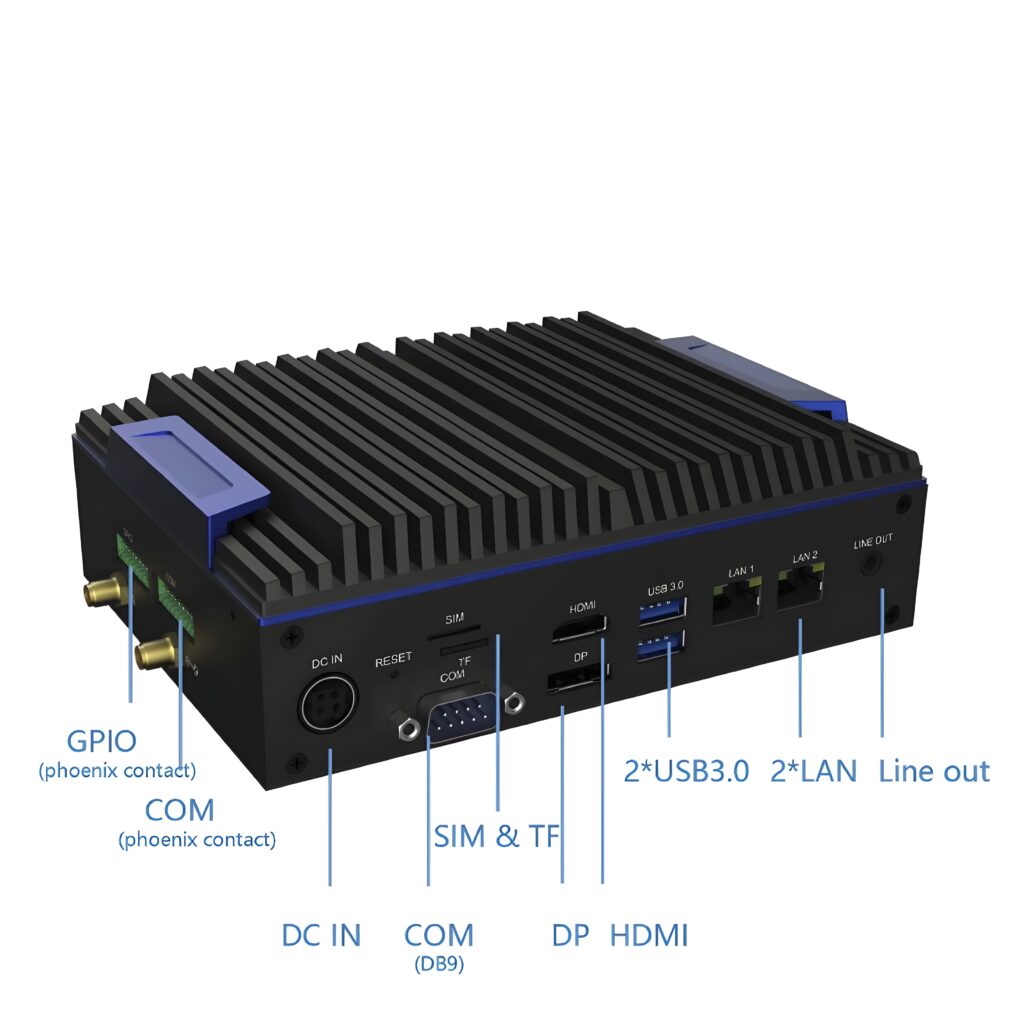 The system is powered by Rockchip X3588 – a low power, high performance processor for ARM-based PC and Edge Computing devices, personal mobile internet device and other digital multimedia applications, integrating quad-core Cortex-A76 and quad-core Cortex-A55 with a separate NEON coprocessor. X3588 itself is a bright implementation of ARM's concept named big.LITTLE DynamIQ technology, meaning heterogeneous processing architecture that uses two types of processor. "LITTLE" processors are designed for maximum power efficiency while "big" processors are designed to provide maximum compute performance.
The system may be delivered with either 4 or 8 Gb built-in non-interchangeable LPDDR4 (low power DDR4) memory.
X58 is equipped with Mali™ G610 MC4 GPU. It's capable of delivering 8K@60fps on HDMI port and 4K@60fps on DP output. RK3588 supports H.265 and VP9 decoder by 8K@60fps, H.264 decoder by 8K@30fps, and AV1 decoder by 4K@60fps, also support H.264 and H.265 encoder by 8K@30fps, high-quality JPEG encoder/decoder.
The system has two 1000 Mb/s Ethernet adapters which lets it work in two subnets simultaneously. It has an onboard Dual-Band (2.4/5.0GHz) WiFi/BT adapter. Besides that, due to its MiniPCIe full size slot it can be equipped with 4G LTE module thus extending its network connectivity to a maximal possible extent. Interestingly, the system equipped with its four WiFi antennae could be mistaken for a WiFi router.
X58 may have either 32GB or 64GB eMMC flash internal storage. Besides that, it has one M.2 2280 slot for SATA-6Gb/s or PCIe NVMe SSD. It also has a TF card reader.
As said before the set of I/O ports is impressive. X58 not only has two USB 3.0 and two USB 2.0 ports, but one RS232 port (optional RS485) on the back panel and one RS232+RS485 Serial COM Phoenix terminal and one 4in/4out GPIO Phoenix terminal on the side panel.
Of course, the system is fanless, which not only enables noiseless operation and low power consumption, but also enables its work in dusty environments including conductive dust. It's delivered with Android 12 OS.
No doubt this hardware-state-of-the-art feature-rich device will let software architects and developers create new demanding applications as well as to port x86 based applications to Android platform.

Polywell Computers, Inc. (on the market since 1987) is one of the oldest and best-known manufacturers of computer equipment. The company is widely known not only in the United States, but also in Europe, Latin America and Asia. Polywell Computers returned to EMEA market with mini industrial grade PCs for different purposes. Our company's PCs have all the necessary permits. Some systems are certified for Stratodesk operating system.
The company has built its reputation by becoming a recognized leader in the PC market. Its products regularly participate in tests conducted by the most respected computer publications. The company regularly receives many awards, such as PC World's Best Buy, PC Magazine-Editor's Choice, and Infoworld-Buyers' Assurance Seals.