Polywell Computers enhances its OPS product line with the 12th generation OPS-U12A system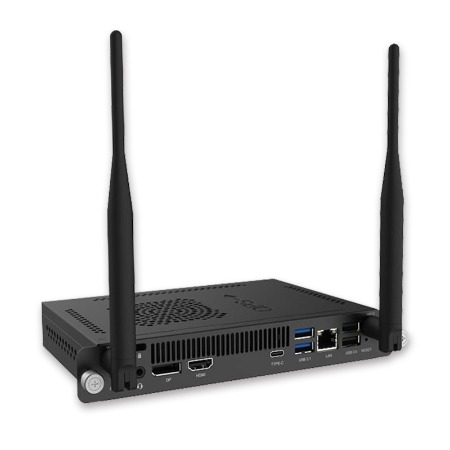 Today's fast-growing digital signage market lacks common standards and versatility. The variety of Digital Signage players hardware platforms as well as form factors creates the richness of choice for system integrators on the one hand. But on the other hand, they face a lot of proprietary solutions compatibility challenges both is Digital Signage players and displays. In 2010 Intel, NEC and Microsoft introduced the OPS which stands for Open Pluggable Specification. The goal was to overcome these challenges and save system manufacturers the cost of developing and implementing such a standard themselves.
As a result, the standard for a computing module fully enclosed in a 180mm x 119mm x 30mm box with JAE 80-pin plug connector has been introduced. The system should support the following interfaces: power; HDMI/DVI and DisplayPort; Audio; USB 2/3; UART; OPS control signals.
Since its inception the OPS has not become the overwhelming standard in Digital Signage applications. Yet it co-exists with other form factors of players and occupies a significant portion of the market.
Polywell manufactures a comprehensive portfolio of OPS computers powered by both Intel and ARM CPUs. Moreover Polywell Computers has introduced the whole new class of industrial computers based on OPS – SwapPC, which is widely used to provide high availability of endpoint devices at remote sites without technical staff..
Recently Polywell Computers has launched the new 12th generation OPS system – OPS-U12A based on Intel® Alder Lake-P Platform (SOC).
It can be powered by 12th generation P-series Intel® Core™ i3, i5 and i7 CPUs, which are a good compromise between performance and power consumption/heat dissipation.
The OPS-U12A has two SO-DIMM slots for up to 32 GB of high-speed 3200 MHz DDR4 memory.
The graphic subsystem of the system is based on Intel® Iris® Xe 12th Gen. UHD Graphics, 8/4K Resolution. It supports three graphic ports: HDMI 1.4 port supporting 4K resolution and DP 1.4 port supporting 8K resolution accessible from the front panel. Plus, the system has JAE connector through which the HDMI 2.0 signal with 4K resolution is being transmitted to the host display.
The OPS-U12A has one Gigabit (10/100/1000 Mb/s) Realtek network adapter that supports network wake-up (WOL) and remote diskless operating system boot (PXE boot). The system may be equipped with a dual-band Wi-Fi adapter with 2.4 GHz and 5GHz bands and BT 4.2. Additional Gigabit LAN can be added by USB LAN module.
The storage subsystem includes one M.2 2280 slot (for SATA-6Gb/s or PCIe x4 NVMe SSD).
The model is equipped with one USB Type-C, two USB 3.1 and two USB 2.0 ports.
The OPS-U12A (as well as all Polywell Computers mini-PCs) is made of industrial grade components. This ensures the high reliability of the computer and openly declared MTBF of 100000 hours, which is a unique offer in the market.
The system can be shipped with MS Windows 10/11, Windows IoT, Linux. It can be used in a wide variety of applications including but not limited to Digital Signage, white board for education, airport information boards, etc.

Polywell Computers, Inc. (on the market since 1987) is one of the oldest and best-known manufacturers of computer equipment. The company is widely known not only in the United States, but also in Europe, Latin America and Asia. Polywell Computers returned to EMEA market with mini industrial grade PCs for different purposes. Our company's PCs have all the necessary permits. Some systems are certified for Stratodesk operating system.
The company has built its reputation by becoming a recognized leader in the PC market. Its products regularly participate in tests conducted by the most respected computer publications. The company regularly receives many awards, such as PC World's Best Buy, PC Magazine-Editor's Choice, and Infoworld-Buyers' Assurance Seals.